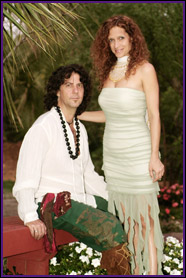 For bookings, contact Armand and Angelina via:
Phone: (407)695-2097
Email:
Armand and Angelina have been involved with many different types of shows and events from Concerts/Seminar, to Theme Events, to "Cirque de Soleil" type shows. They are available for spiritual retreats, conferences, weddings, event entertainment, and youth events.
Armand and Angelina are very diversified in their musical styles. They offer the following:
Host a House Concert
Have Armand and Angelina entertain your friends at your home or Community Center.
What you provide:
$15 to $20 from each person or they can gather a "Value Received Offering".
Access to the space at least 90 minutes prior to showtime.
Space for Armand and Angelina to set up their CDs for sale.
What Armand and Angelina provide:
A professional concert - they have several different programs to offer you.
A magical event of love, joy, humor and inspiration.
An energy raising vibration to your home or center brought on by the healing energy of Armand and Angelina's passionate love for each other and their music.
Would you like something fresh and unique for your Cocktail Hour and/or Dinner Hour?
Armand and Angelina offer World Popera for background music for your special event. Listen to the ethereal vocals of Angelina and the magical sounds of Armand's Native American flute. Their Celtic, Mediterranean sound will add excitement and class to your event.
Planning a Renaissance affair?
Armand and Angelina can enhance any Medieval theme party with their fun and energetic Renaissance music. They can sing from the stage or stroll through the crowd for an added effect of interaction. Armand, a true jester, is fabulous at getting the guests involved in the act with his humorous antics and sing-a-long melodies. Angelina plays her zither harp and guitar while adding lilting Celtic melodies. Together, they create a "Knight to Remember."
Desiring a Taste of Italy?
Angelina performs a wealth of classical and favorite Italian songs, including arias, Neapolitan folk songs, and famous Italian love ballads. Armand and Angelina stroll from table to table creating that authentic Italian atmosphere. Add their accordion player to enhance the Italian flavor.