I am so delighted to offer these beautiful scarves to you. They are classic and elegant. You will feel like a radiant being when you wear one. The weight of the beads makes it feel like you are being hugged by angels. I love my scarves. You will love yours, too.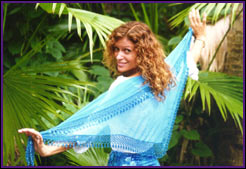 Details about the scarves:
All scarves are hand made in Egypt. Over 40 hours of work on each scarf.
Beads are crocheted on with durable fine yarn.
Triangular shape. Average scarf size: 46"x22"x22".
Made of 60% silk and 40% cotton
Order Here
Many colors are available:
Black - with silver, gold, iridescent, or black beads
Purple - with silver, gold, iridescent beads
Royal Blue - with silver, gold, iridescent beads
Red - with gold or red beads
Turquoise - with silver or turquoise beads
Orange - with orange beads
Many other beautiful colors
Animal Prints
Prints in various colors
Order your new exquisite Egyptian Scarf for $95.00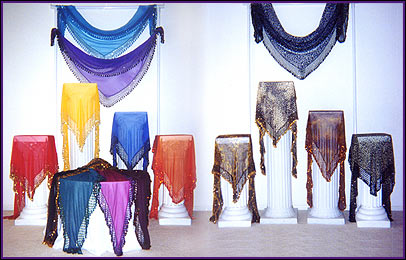 ---
"Dear Angelina,
I purchased one of your scarves at the ULC! It always make me feel wonderful when I wear it. I am a "Domestic Goddess" (aka "Stay-at-home-mom"), and on those rare days that are a little "overwhelming", I'll throw my scarf on just to wear around the house! It instantly makes me feel better! Like getting a hug from the angels.
Blessings of Peace and Love to you! I look forward to seeing you again at the ULC this year!"
.Sally Richard