New Featured Book: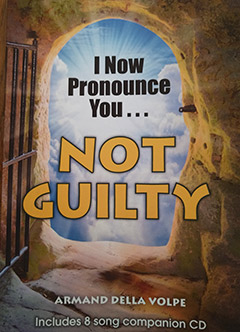 It's Finally Here. Armand's first book containing material from 5 of his Inspirational talks and more, Including: An Attitude of Gratitude; I Now Pronounce You Not Guilty,; Learning How to Feel; Getting High on God; and Turn The Other Cheek. It also includes an 8 Song Companion CD as well. This is a dream come true.
Order Here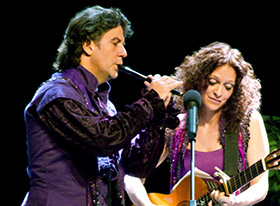 Prepare for a magical, once in a lifetime experience of love and music. Armand and Angelina tour internationally performing their World Popera overture, a fusion of world, classical and popular influences designed to harmonize and unite humanity. Together, using songs, stories and humor, they will inspire you to experience "Heaven on Earth."
Harmony Pendant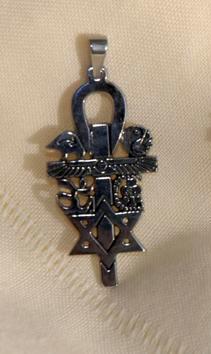 The Harmony Pendant was designed by Reverend Doris Hoskins, an Ordained Unity Minister, to focus attention on the many similarities that exist in the truths expressed in all religions.
The Surgical Stainless Steel Harmony Pendant is perfect for those who are looking for something nearly indestructible and corrosion resistant. It will provide you years of wearing pleasure. It measures 22.5mm x 47mm and weighs 1 ounce. It comes with a 2mm, 20" stainless steel chain.
Order Here
Active Adult Community Performances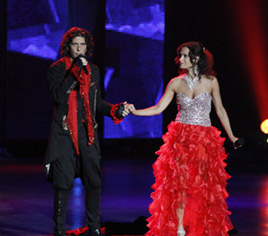 The Age of Aquarius.....Peace, Love & P'opera CD
12 Song CD including originals and personalized pop and classical songs that includes Native Flute
Other Videos
Contribute to Armand and Angelina's Ministry
Thank you in advance for supporting Armand and Angelina's Traveling Ministry designed to inspire and entertain as many as possible with their music, mirth and message. Your support right now will help to fund their ever increasing travel and product costs and will enable them to have more opportunities to share their love and music regardless of congregational size or financial ability.
YES, I want to support Armand and Angelina's Ministry. (choose a donation type below)
One-time Donation
Click the Donate button below to make a one-time donation. You will be directed to a secure PayPal page where you can specify an amount of your choosing.
Monthly Donation
The most beneficial support you can give is a recurring monthly donation.