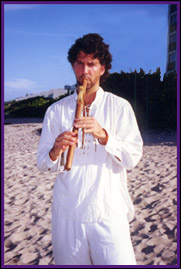 Armand now offers Native flutes similar to the ones he plays and records. A Native flute was gifted to him in 1999 and the spirit of the flute has changed his life. These flutes truly allow Spirit to flow through them and guide the flutist to create their own melodies. Anyone can play them since they are based on a minor penatonic scale with no incorrect notes.
The Native flutes offered are hand-crafted and require little care. Each flute also comes with a brushed felt flute bag, introduction book and DVD.
Cedar or walnut?
Aromatic Cedar has the finest sound quality in the softwood family. These soft grain woods generate a warm mellow voice. In the hardwood family, Walnut has an exceptional tonal quality. The sound waves travelling through the tight grain of these woods create a clear full voice. The added advantage to harwoods is durability.
Aromatic Cedar Sparrow Hawk (Key Am)(20" long) $240.00
Aromatic Cedar Sparrow Hawk w/turquoise inlay (Key Am) $285.00
Order Here
Walnut Sparrow Hawk (Key Am) (20" long) $240.00
Order Here
First Hawk in Spanish Cedar (Key A) $130.00
Order Here
Crow Flute (Key Am) $345.00
Order Here
Walnut Condor Bass (Key E minor) $350.00
Walnut Condor Bass w/turquoise inlay (Key E minor) $400.00
Order Here
---
Transfluting from Montclair NJ…One mans story
"Hello Armand and Angelina,
My name is Evans we met at The Religious Science of Montclair on 9/11/06. I purchased a double flute from y'all that evening after your fantastic performance in West Orange NJ.
I would like to share with you some of my experiences with the flute and how it's enhancing my life along with others. I take it ever where I go. I am a massage therapist and I use it after a session and my clients say they can feel it's vibration moving through them.
I also work at a community center where I walk around playing my flute between massage clients and people always stop me to ask what is that and how can I get one? I send them to your web site. This center is very large and it houses many activities for children and adults of all ages and special needs. I have been pulled aside on a few occasions to perform for some of these people and especially kids and I do so without hesitation.
I have yet to encounter any person who dislikes the sound of this instrument, it's amazing. I have played it at gas stations while I was waiting for a fill up and received pleasant praises from the usual disgruntle attendants.
I find my self seeking out unusual places to play like the racket ball court, Wow! what and echo is some fine re-verb too.
So, thank you for introducing this Transfuting instrument to me. It continues to change my life and delight those around me."
…Peace Evans
---
"You may or may not remember my wife purchased one of your flutes after the service. She was the one who asked you (Armand) how long it takes to learn how to play, and you very kindly gave her a quick lesson. She is now playing whole songs with it, and usually follows her evening meditation with about 20 or 30 minutes of letting her feelings come out through that instrument. What a beautiful thing to hear! We both enjoy everything about your music."
…Thanks, Tom from Pensacola